At Power Up Electrical Services, we specialize in anything and everything electrical for residential and light commercial applications PLUS emergency services.  
Power Up is female-owned and operated by a Red Seal Certified Master Electrician, Kim Slezinsky. Exceptionally organized and focused on the details, Power Up Electrical Services will arrive on time, make sure all work is performed to the highest standards with no surprises or extra charges. Timely. Transparent. Stress-free. 
At Power Up Electrical Services, we offer a full range of electrical services for home and business – wiring from the ground up to simple and fair priced electrical upgrades.  
Electricity is our Passion.
Complete Customer Satisfaction is our Goal.
Dependable Electrical Service, Installation and Repair.
Kim is the owner of Power Up Electrical Services and employs a team of experts with the skill, dedication and professionalism to get the job done right the first time. Good people you can trust.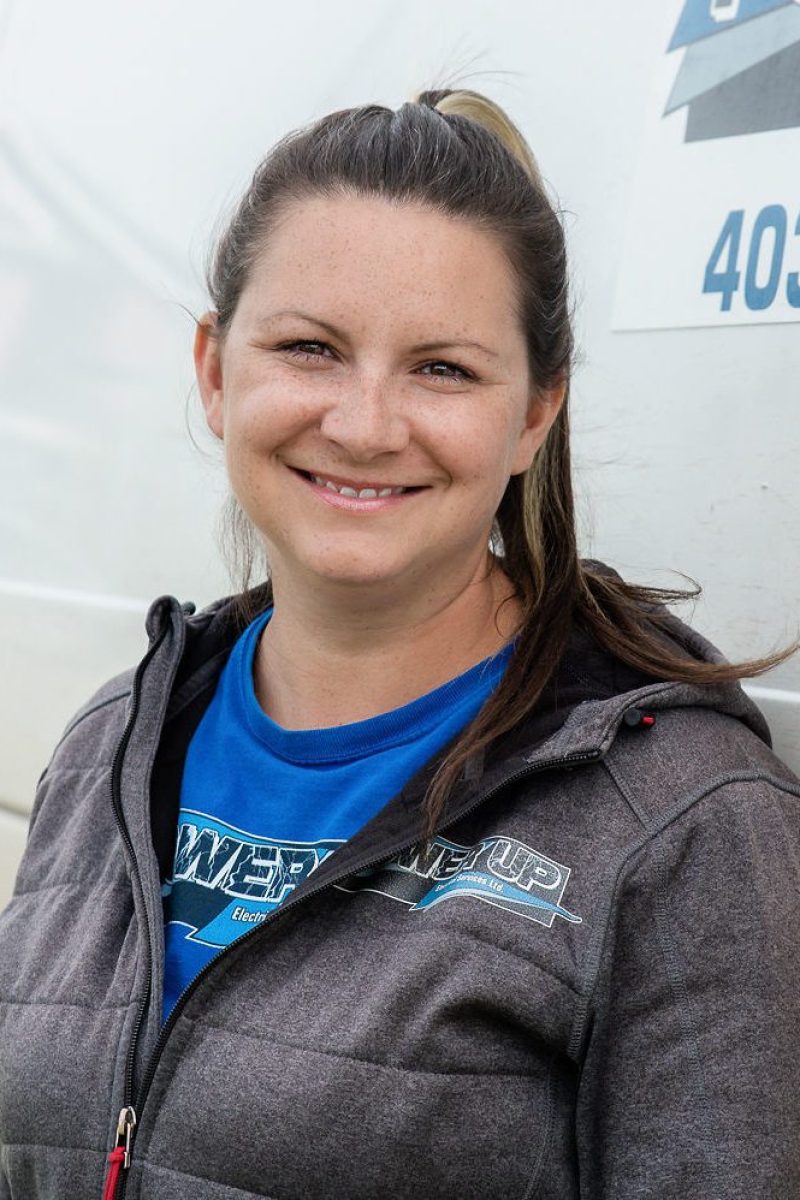 Kim had always wanted to work in the trades, and in 2010 got the opportunity.  Throughout her electrical apprenticeship, Kim worked for various companies, learning new skills and different ways of doing things.
Kim attained her journeyman certification in 2015 and also passed her Red Seal exam, allowing her to work outside of Alberta. From there, she managed the residential division at two different companies, learning how to quote jobs and invoice larger projects.
Following a layoff in 2016, Kim launched her own company. In 2019, Kim passed her Masters Exam, allowing her to pull electrical permits. 
Kim has two dogs and enjoys camping, hiking, equestrian and agility training with her dogs. Kim loves teaching customers about their homes and explaining what she is doing and why.   
I recently had the pleasure of working with Power Up Electrical Services Ltd. and I'm very happy with all the work that was completed. Right from day one walk through on the job Kim came in with a great amount of knowledge and drive to get what needed to be done on budget and on time. They rewired an entire house; adding and removing plugs, switches and smoke detectors. They moved the panel from one side to the other and changed out the entire power service to meet code. Even crawling around in the tight attic was not an issue for them. I highly recommend Power Up Electrical Services Ltd. for your next project.
Simply the best customer service out there. We have used them several times and the price has always been very fair, often less then quoted. Today ran into a minor electrical problem and Kim was able to help me over the phone at no charge. You just don't get customer service like that anymore. Highly recommend.
Kim has provided excellent service at reasonable rates. She makes time to review and communicate options when undertaking a project to ensure the best possible outcome, and she is able to think creatively to find solutions for challenging projects. Kim has worked in a tidy manner and has shown consideration for our property. She has also been respectful of our time. She takes care to communicate timelines and accommodate our scheduling needs, arrives on time, and stands by her commitments for follow-up. It is apparent to us from discussing our electrical needs and seeing Kim work that she is a conscientious electrician who is cognizant of quality and value, and she strives for the long term satisfaction of her clients.We are confident in recommending Kim for your electrical services.
I have done multiple jobs with Power Up. As a Contractor I have nothing but amazing things to say about Kim and Randie. Always on time, on budget and great attitudes!
Kim and her team were AMAZING to deal with, super fast to respond, even faster to schedule an electrician to come out and just all round a pleasure to deal with. If you are looking for a trustworthy, friendly professional company to deal with don't hesitate to reach out to Kim A1 thank you
Power Up Electrical Services are ready to go to work for you to fulfill all your electrical requirements. Organized, professional, ethical – focused on the details. Get a hold of 'em now!